Dr. Shanthi Pandian embarks on an interesting transition from R&D to training
From a researcher with doctorate in computational chemistry background working on batteries and semiconductor devices to managing the learning curve of the organization is a complete turnaround in terms of career roadmap. Dr. Shanthi Pandian represents many of those engineers who aspire to pursue what they are passionate about. With 8 years of working with the Samsung Advanced Institute of Technology (SAIT) team at Samsung R&D Bangalore (SRI-B), Shanthi researched on for lithium ion batteries for semiconductor devices before moving to Learning and Development (L&D) team early this year.
SRI-B is known for its continuous learning and great emphasis on patent creation and publishing important papers. Dr. Shanthi has also authored/co-authored more than 10 papers with multiple ones as a leading author while working on the research side. Interesting to note that a large chunk of flagship devices battery related diagnostics is conducted from the SRI-B SAIT team and she has played an important role as a team member.
So, what really made her choose a transition and career digression at this juncture? "The decision was to opt between transitions within the team or explore something beyond. The L&D facilitator role meant moving out of the comfort zone while building capabilities beyond one team and enabling the technical needs across the organization. That's what I needed in terms of a career boost as I wanted to try new pastures where challenges are ample".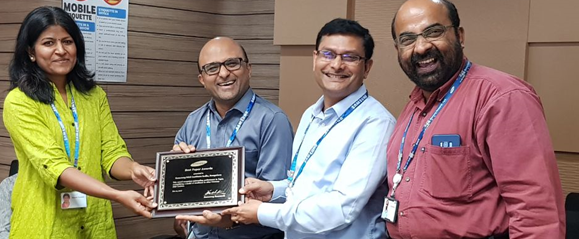 Dr. Shanthi has assisted in training various groups and enabled multiple SRI-B colleagues with their learning needs in a short span of time. While managing her stakeholders is the most interesting and challenging task, she is loving every bit of the new role where she has become an enabler and not on the receiving side anymore. On being asked how her team leaders reacted to her decision, "Samsung puts 'People first' in every aspect and if you show interest, opportunity is surely created. That speaks volumes about the support received from R&D and HR leaders as they were extremely welcoming in this decision of changeover alongside helping adapt easily into the new team".
If you want to work in an organization that can give ample opportunities to your career path, please visit:

http://www.samsung.com/in/aboutsamsung/careers/careers-center/
https://sec.wd3.myworkdayjobs.com/Samsung_Careers