A new space opened for software developers from all fields to gather. The Samsung Software Developer Conference (SSDC), formerly known as the Samsung Open Source Conference (SOSCON), held online from November 17 to 18, showcased the research results and innovative technology from an array of fields, including artificial intelligence (AI), Internet of Things (IoT), 5G, the cloud, and big data.
The event expanded and reinvented SOSCON, held annually since 2014. Starting this year, attendees can learn not only about open source but all Samsung Electronics' software fields.
The first day's programs were open only for Samsung Electronics employees to seek growth goals as developers and share values. The second day, including lectures by industry leaders, were open to all software developers. Participants, who registered in advance, were able to actively convers with the presenters by asking them questions. The Samsung Newsroom compiled highlights from SSDC Day 2, an inspiration for so many developers.
New Spaces for Dialogue, Standing on the Power of Openness and Collaboration
SSDC Day 2 began with opening remarks by Dr. Sebastian Seung, President and Head of Samsung Research. Emphasizing the importance of open source, Dr. Seung noted that "Samsung understands that openness and collaboration are important for creating great software," " and they "are a simple but sure recipe for extraordinary innovations."
He also discussed SOSCON's impact over the past seven years and the future of SSDC, which will fly further along SOSCON's trajectory. "In the past seven years of SOSCON, we were able to gather more than 12,000 attendees and hold almost 300 tech sessions. With the expansion of SOSCON to other software areas through this year's SSDC, we retain our main objectives to learn, share, and network but with a wider scope. " He added, "We hope that SSDC will become a venue for discourse and collaboration among software developers all over the world."
Certified by International Standards in Open Source and Impact of Samsung's Open-Source Strategy
According to a report published this year[1], open source accounts for at least 75% of the code used in major information and communications technology (ICT) industries. Samsung Electronics also uses open source in at least 70% of its software platforms and core technology codes. In his keynote speech, Executive Vice President and Head of R&D Strategy Team at Samsung Electronics Seungbeom Choi, who leads Samsung Electronics' open-source strategy, introduced the strategy's three aspects: Project, People, and Process.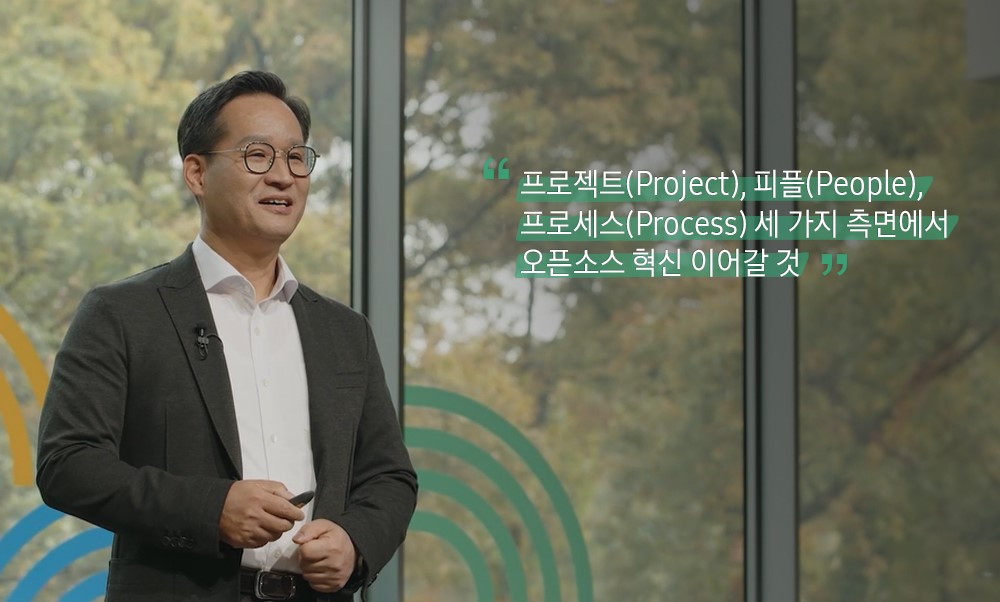 In the 'Project' section, he introduced Samsung's new projects in the AI, IoT, and security fields, including, respectively, NNStreamer (a neural network streaming technology), Matter (a home IoT open standard protocol), and CredSweeper (an open-source security vulnerability detection tool). He followed up with details about the Tizen platform, which has entered its 10th year, and the technological strengths oflt`f the Robot Operating System (ROS), the open-source operating system used in at least 90 different robots.
For the 'People' section, he focused on the importance of nurturing open-source leaders. Choi mentioned "various in-house and external activities to expand the open development culture and developer collaboration programs, including ones for the youth," explaining that there were "continuing meaningful technological exchanges with diverse open-source communities locally and abroad and international developers."
Finally, for the 'Process' part of his speech, Choi reported that "Samsung Electronics obtained international certification (ISO/IEC) last July for the OpenChain project led by the Linux Foundation in recognition of its stable open-source development system," and that "we will continue to contribute to open-source innovation and development through broad-based cooperation and communication."
Software Developer Mindset: Samsung's Development Culture According to Its Leaders
This conference was an opportunity to hear Samsung's software development culture outlined in an interview between Hyesoon Jeong, Corporate Vice President of the Software Platform Team at Samsung Electronics and Baekjun Lim, Corporate Vice President of the Big Data Team at Samsung Electronics.. Jeong shared her insights on the company's development culture and growth potential based on her 24 years of Samsung Electronics software development experience. Lim, who joined Samsung Research 4 years ago after working as a developer in New York for 20 years, gave his opinions on the development culture of overseas IT firms and compared it to the domestic market.
Jeong defined Samsung Electronics' development culture in these words: "Once we have a goal, we have the foundational strength and DNA to make it a reality as quickly as possible." She then credited the company's culture of "autonomy" as the source of this incredible momentum. "A good example of an institution settling into a culture is our flexible schedule. At first, it was awkward, spending the morning hours on everyone's schedule before coming to work, but now that it has become settled, work is more relaxed. It led to a culture where the free exchange of opinions is welcome."
Lim, agreeing with Jeong, emphasized the need for a culture that expands this autonomy into the work process. Developers should not only accomplish the tasks given to them but also propel themselves with their purposes. "They need autonomy for what to do next and should be able to move in their own time and space. We can develop it into another culture where, rather than being uncomfortable when given choices, they learn to enjoy it."
From Industry Leader Insights to the Passion of Junior Developers: Voices Unite through Software
Professor Hyeshik Chang of Seoul National University, the first Korean Python committer (a core developer who uses the Python programming language), presented global responses to the rapidly changing environment and corresponding new research results under the fascinating theme, "What One Developer Did in the COVID-19 Pandemic Situation." Professor Chang defined the concept from a biological perspective, stating: "The essence of a virus and vaccine is an information war. When the virus injects us with information, we prepare by making a response patch in advance." He then went over the global response stages to COVID-19, explaining the human body's structure, the coronavirus genome, and the novel coronavirus genome map's completion using Python.
The sessions by the 2020 Samsung Junior Software Cup winners were an opportunity to glimpse the novel ideas and potential of rising talent. The Plain Girls team, whose "talking masks" for hearing-impaired individuals won the grand prize, was the first to take the stage. Doyeon Kim, in charge of software engineering, said she would "prepare for a future that would help more people." Chaeyeon Yun, in charge of design, stated that "we were able to get good results by having fun working with a clear goal in mind. I hope we can all challenge ourselves rather than keep our dreams in our heads."
First-prize winner Junseo Park shared her problem-solving routine in the development process. While engineering the software, she faced difficulties using unfamiliar tools but overcame them using open source. "I used to think of open source as just sharing what you made and getting feedback, but I learned that you could go beyond that to solve important problems and lower the threshold for developers." She continued, "Someday, I want to develop open-source software myself and help others."
On Day 2 of SSDC 2021, there were also diverse technical sessions, including lectures by developers from IT corporations, such as Microsoft and Kakao, and AI-related corporations, including Blue Prism, Lablup, and TUNiB. Furthermore, meetup sessions were open to all developers on the Metaverse platform to share insights about AI, data, robotics, and women developers.
This year's conference, which allowed developers across all age groups and locations to put their heads together and talk about the future, can be viewed again on the Samsung Software Developer Conference's official website.
[1] Open Source Security and Risk Analysis Report, October 2021